VANCOUVER: Tessa Virtue and Scott Moir had home fans leaping to their feet as the Canadians ended 34-years of European domination to win the Olympic ice dance gold medal on Monday.

Virtue and Moir's stirring performance to Mahler's Symphony No 5 raised the domed roof at the Pacific Coliseum after they were awarded a combined total of 221.57 points. They beat Americans Meryl Davis and Charlie White by 5.83 points.

Russian world champions Oksana Domnina and Maxim Shabalin had been tipped as the pre-Olympic favourites but after being bumped down to third place in Sunday's original dance, they could not make up ground and settled for bronze. Since the inception of ice dancing into the Olympics in 1976, Russian or Soviet couples had captured all but two of the gold medals.

Britain's Jayne Torvill and Christopher Dean (1984) and French couple Marina Anissina and Gwendal Peizerat (2002) had claimed the other two titles.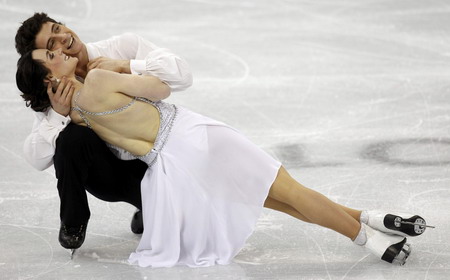 Canada's Tessa Virtue and Scott Moir finish their performance in the ice dance free dance figure skating event at the Vancouver Winter Olympics February 22, 2010.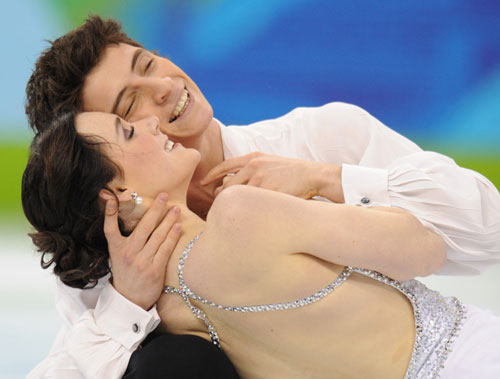 Tessa Virtue(Below)/Scott Moir of Canada perform during the ice dancing free dance of figure skating at the 2010 Winter Olympic Games in Vancouver, Canada, Feb. 22, 2010. Tessa Virtue/Scott Moir won the gold medal with a total score of 221.57 points. (Xinhua/Yang Lei)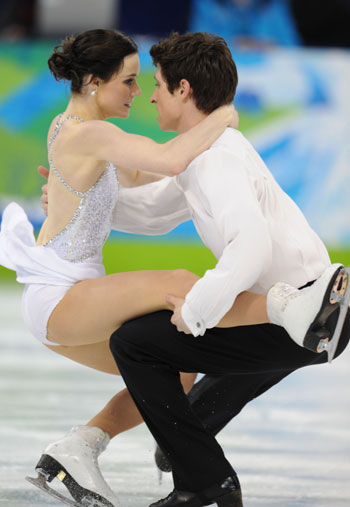 Tessa Virtue(L)/Scott Moir of Canada perform during the ice dancing free dance of figure skating at the 2010 Winter Olympic Games in Vancouver, Canada, Feb. 22, 2010. Tessa Virtue/Scott Moir won the gold medal with a total score of 221.57 points. (Xinhua/Yang Lei)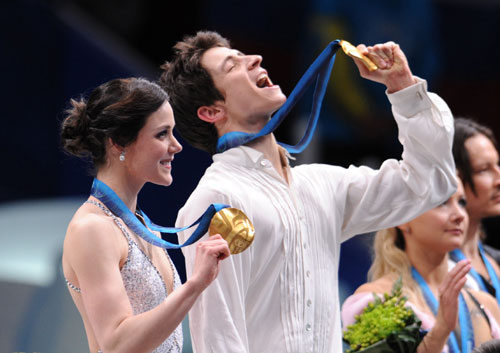 Tessa Virtue(L)/Scott Moir of Canada react during the victory ceremony for the ice dancing of figure skating at the 2010 Winter Olympic Games in Vancouver, Canada, Feb. 22, 2010. Tessa Virtue/Scott Moir won the gold medal with a total score of 221.57 points. (Xinhua/Yang Lei)