Mandarin will surpass German to become America's third largest foreign language, according to an educational report from the New York Times on Wednesday.

Based on a government-financed survey cited in the report, about 1,600 American public and private schools are teaching Chinese, up from 300 or so a decade ago. And the numbers are growing exponentially.

Among America's approximate 27,500 middle and high schools offering at least one foreign language, the proportion offering Chinese rose to four percent, from one percent, from 1997 to 2008, according to the survey, which was done by the Center for Applied Linguistics, a research group in Washington, and paid for by the federal Education Department.

To prepare the survey, the Center for Applied Linguistics sent a questionnaire to 5,000 American schools, and followed up with phone calls to 3,200 schools, getting a 76 percent response rate.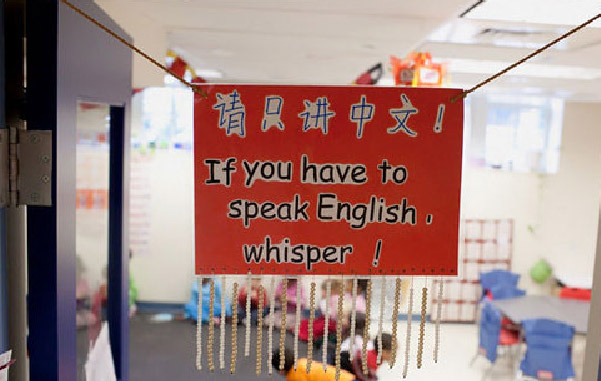 A board saying "Please speak only Mandarin. If you have to speak English, whisper!" was hung on the door of Yu Ying charter school in Washington D.C., the United States on January 20, 2010. [Photo: sohu.com/New York Times]
The results, released last year, confirmed that the number of students taking the Advanced Placement test in Chinese, introduced in 2007, has grown so fast that it is likely to pass German this year as the third most-tested A.P. language, after Spanish and French, said Trevor Packer, a vice president at the College Board.
Meanwhile the location of schools that offer Mandarin lessons has also extended from coastal areas to heartland states, including Ohio and Illinois in the Midwest, Texas and Georgia in the South, and Colorado and Utah in the Rocky Mountain West.
"The mushrooming of interest we're seeing now is not in the heritage communities, but in places that don't have significant Chinese populations," said Chris Livaccari, an associate director at the Asia Society.
Experts say several factors are fueling the surge in Mandarin. As well as the support of the Chinese government, American parents, students and educators' awareness of China's emergence as an important country and believe that fluency in its language can open opportunities. (CRIenglish.com)