BERLIN, Jan. 19 (Xinhua) -- The 60th Berlin International Film Festival (Berlinale) will kick off with the world premiere of a Chinese movie, Tuan Yuan (Apart Together), in the Berlinale Palast on Feb. 11, organizers said on Tuesday.

The opening movie tells the story of a great love, while depicting the tragedy of a divided country, said the organizers. It tells the story of a soldier named Liu Yansheng, who had fled Shanghai to Taiwan in 1949, and met the love of his life after he returned to the mainland as an old man.

Tuan Yuan is the latest production by Wang Quan'an, born in 1965 and one of the so-called sixth-generation directors in China. In 2007 he won the Golden Bear, the top prize of the festival, with Tuya De Hun Shi (Tuya's Marriage).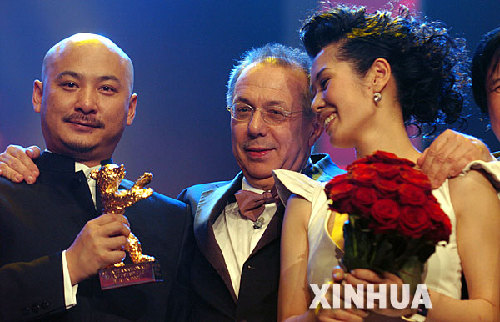 Chinese director Wang Quan'an (L) holds the Golden Bear award after an awarding ceremony at the 57th Berlin International Film Festival. (Xinhua Photo)
Besides Wang, the other two Chinese directors who had won the Golden Bear were Xie Fei in 1993 with Woman Sesame Oil Maker, and Zhang Yimou in 1988 with Red Sorghum.
Following the award ceremony of the 60th Berlinale on Feb. 20, Otouto (About Her Brother) by Yoji Yamada (Kabei), a Japanese master director, will be screened as the official closing film, said the organizers.
The 60th Berlinale will be held in Berlin from Feb. 11 to 21. Now seven Chinese movies from the mainland, Taiwan and Hong Kong have been on the show list, according to the organizers.