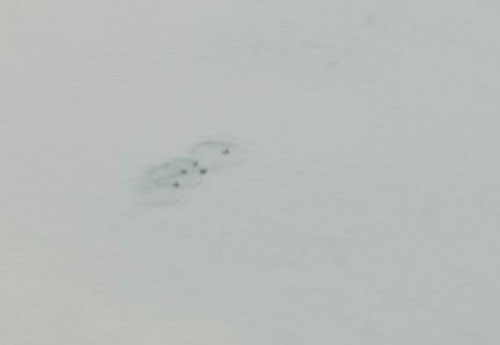 Zhuo Yongsheng, a Chinese local TV reporter said he shot a 20-minute video of six unidentified creatures in a deep volcanic lake on Spetember 6, 2007. [Photo: Zhuo Yongsheng/Xinhuanet]
A Chinese TV reporter said he had witnessed and shot a 20-minute video of six unidentified creatures in a deep volcanic lake near China's border with the Democratic People's Republic of Korea.
Zhuo Yongsheng, who worked for a local TV run by the administration office of Mount Changbaishan, a nature reserve in the northeastern Jilin Province, has sent electronic pictures of the "Nessies" he shot to Xinhua's Jilin provincial bureau.
One of them showed the six "Nessies" swimming in parallel in three pairs, while another featured they huddled together, leaving circular ripples on the surface of the lake.
Zhuo, director of the TV's news center, said he shot the video and photos last Thursday.
"I went atop the southern slope of the mountain with two local guides at 5:05 a.m. hoping to shoot the sunrise," he said. "I was not able to do that because it was cloudy."
By 5:26 a.m. the sunglow had presented a clear view of the Tianchi Lake at the foot of the mountain. "Du Baiqing, one of the guides, suddenly pointed to the lake, yelling in amazement that a stone had emerged from nowhere", Zhuo told Xinhua.
He focused his lens on the black moving object in the center of the lake, and soon found five others emerging from the deep water.
Zhuo said he had seen the six seal-like, finned creatures swimming and frolicking in the lake for an hour and a half, before they were out of sight at 7:00 a.m. He kept shooting on and off, fearing he might run out of tape and miss the most exciting moment.
"They could swim as fast as yachts and at times they would all disappear in the water. It was impressive to see them all acting at exactly the same pace, as if someone was giving orders," he said. "Their fins -- or maybe wings -- were longer than their bodies."
Zhuo said he didn't use to believe any lake monster legend. "But I believed my own eyes."
Rumors that the 373-meter-deep volcanic lake harbors some sort of monster have been circulating for more than a century.
However, scientists dismissed the reports, saying the lake was too cold for large creatures and volcanic eruptions happening as recently as 300 years ago would make life extremely hazardous for any animal making the lake its home.
The Tianchi monster is not the only "Nessie" said to be living in China.
Kanasi lake, China's deepest alpine lake in northwestern Xinjiang region, reputedly has mysterious creatures that devour livestock live.(Source:Xinhua)