Ever since I heard of Yanjing (salt well in Chinese) in Tibet as a child, the place has held fascination for me. A recent work trip brought me the chance to see Yanjing and Tibet's breathtaking landscape first hand.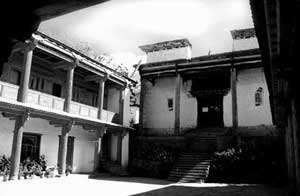 Yanjing is in a valley in Mangkam County, on the border of Sichuan and Yunnan provinces. The Jingsha, Nujiang and Lancang rivers converge in the region, and the Hengduan Mountain range runs through it from south to north. Yanjing was the first stop on the ancient Tea Horse Trail from southwest Yunnan to Tibet.
Yanjing's population is predominantly Tibetan but also includes the Han and Naxi ethnicities. The Naxi people in Yanjing speak and write the Tibetan language and live in the Tibetan way, but still adhere to their ancient ancestor worshipping rituals and other cultural traditions.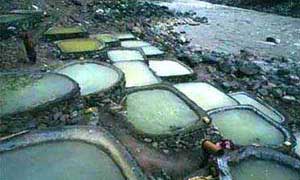 Salt mining has always been a main industry in Yanjing. There are no written records as to when salt mining and trading began there, but the famous Tibetan epic King Gesar makes mention of wars in the area arising from salt resource disputes. It was the town's long hours of sunshine and rich wind resources that engendered the Yanjing natural wind drying method of salt collection. Farmers first fetched water from the salt wells by the Lancang River, and transported it to their homes in wooden barrels where it was emptied into the saltwater ponds in their courtyards. After letting the brine concentrate, it would then be poured into a salt field where the water evaporated in the hot sun, leaving the salt residue.
White salt is of the highest quality and is used as a food ingredient, while the deep red salt produced this way is used to boil tea or feed livestock. In years past Yanjing residents would take salt to cities in Yunnan and Sichuan and barter it for production tools and daily necessities.
The traditional wind-drying method is still practiced in Yanjing today. There are now more than 300 salt producing farmers in three towns in Mangkam County that work on 2,800 salt fields. These primitive production methods, however, keep the production volume low. As convenient transportation and modern logistics ensure that the local market is well supplied with fine salt, there is little chance of developing the traditional salt production techniques handed down over generations by Naxi women in the area.
Yanjing is site of the only Catholic church in Tibet. It was built by a French missionary in the late 19th century, and was in the process of renovation at the time of my visit. The priest in residence at the church told me that there are about 800 Roman Catholics in the area, and that Buddhism and Catholicism harmoniously coexist.
Our work group stayed in Quzeka Village by the Lancang River, about 10 kilometers away from Yanjing. It has abundant hot spring resources – reputedly 108 springs whose temperatures range from 20 to 80 degrees centigrade. The waters are believed to be therapeutic and attract many visitors. A holiday resort offering comprehensive tourism services has been built there.
Mangkam County, with its rich natural resources and long cultural tradition, is considered an unopened treasure chest in southeast Tibet, as there is still so much there to be discovered and developed.
Tips:
Geographical Location:
Mangkam County is 1,280 km from Lhasa, capital city of Tibet Autonomous Region; 950 km from Chengdu, provincial capital of Sichuan; 450 km from the prefecture of Qamdo; 260 km from the world's highest altitude Bangda Airport; and 400 kilometers from the well known tourism destination Shangrila in Yunnan Province.
Transportation:
The Sichuan-Tibet National Highway 318 and Yunnan-Tibet National Highway 214 converge in Mangkam County, and there are many stops on long-distance coach routes at both Mangkam and Yanjing. Transportation to the area is convenient but it's a long journey, and a bumpy road. Hitchhiking is common in Tibet, but at a negotiated price. It is possible, but rare, to rent a car for around RMB 2.5 to 5 per km. There are about two flights to Bangda from Chengdu and Lhasa every week, depending on the (changeable) weather.
Food and Accommodation:
Mangkam County and Yanjing have many Sichuan and Tibetan style restaurants and groceries, so both dining and shopping are easy. Most restaurants and hotels are small, moderately clean and inexpensive.
Climate:
May to October is the best time to travel in Tibet. A T-shirt and jacket are adequate for daywear, but a warm sweater or coat is needed at night. Trainers are the most useful footwear.
General Info:
Qamdo Prefecture is a high mountain valley region. Counties and towns in the area are 3,000 to 3,600 meters above sea level. Qamdo's dense forests make the air surrounding them oxygen-rich. Tourists get gradually used to the plateau environment on their journey to it and don't suffer serious oxygen deficiency, other than a slight headache or feeling of nausea. People that suffer seriously from oxygen deficiency can use the respiratory equipment at local hospitals, and tourists on medication should be sure to bring plenty with them. (Source: China Daily)