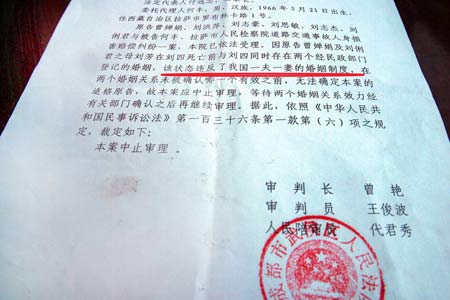 The legal document terminating the case. Photo: Chengdu Evening Paper

After Liu Si died in a traffic accident in Chengdu, capital of Southwest Sichuan Province, two women stepped forward claiming they were his wife and looking for his inheritance.

Liu was a senior director in a leather factory in Chengdu, with his wife Zeng Li and their four children staying in Guangdong Province. When Zeng came to Chengdu after Liu was seriously hurt in the accident, she was surprised to find that her husband had another wife, Huang San, in Chengdu, and they had a child as well.
After Liu died, Zeng and Huang accused each other of pretending to be Liu's wife in the hopes of coming into a fortune. Zeng submitted a certificate signed by local government of Lianjiang City, Guangdong Province, to prove that she was Zeng's only legal wife.
The courthouse investigated the two women and found that they both have valid marriage certificates issued by their respective local Civil Administration Bureaus, proving that Liu had two wives in Guangdong and Sichuan respectively.
Zeng and Liu were married in 1992, much earlier than Huang and Liu's marriage in 2003. Upon hearing this, Huang shifted her accusations from Zeng for bigamy to the driver who killed her husband in the accident, suing to get her daughter's pension.
The driver had admitted that he was responsible for the accident, but the courthouse found it necessary to recognize which one of the two women was Liu's legal wife first to dispense the pension properly, which was still unidentified. (Source: China Daily/By Li Qian)